Powering the Future of Entertainment
Announcing CMPI's New Clean Mobile Power Cohort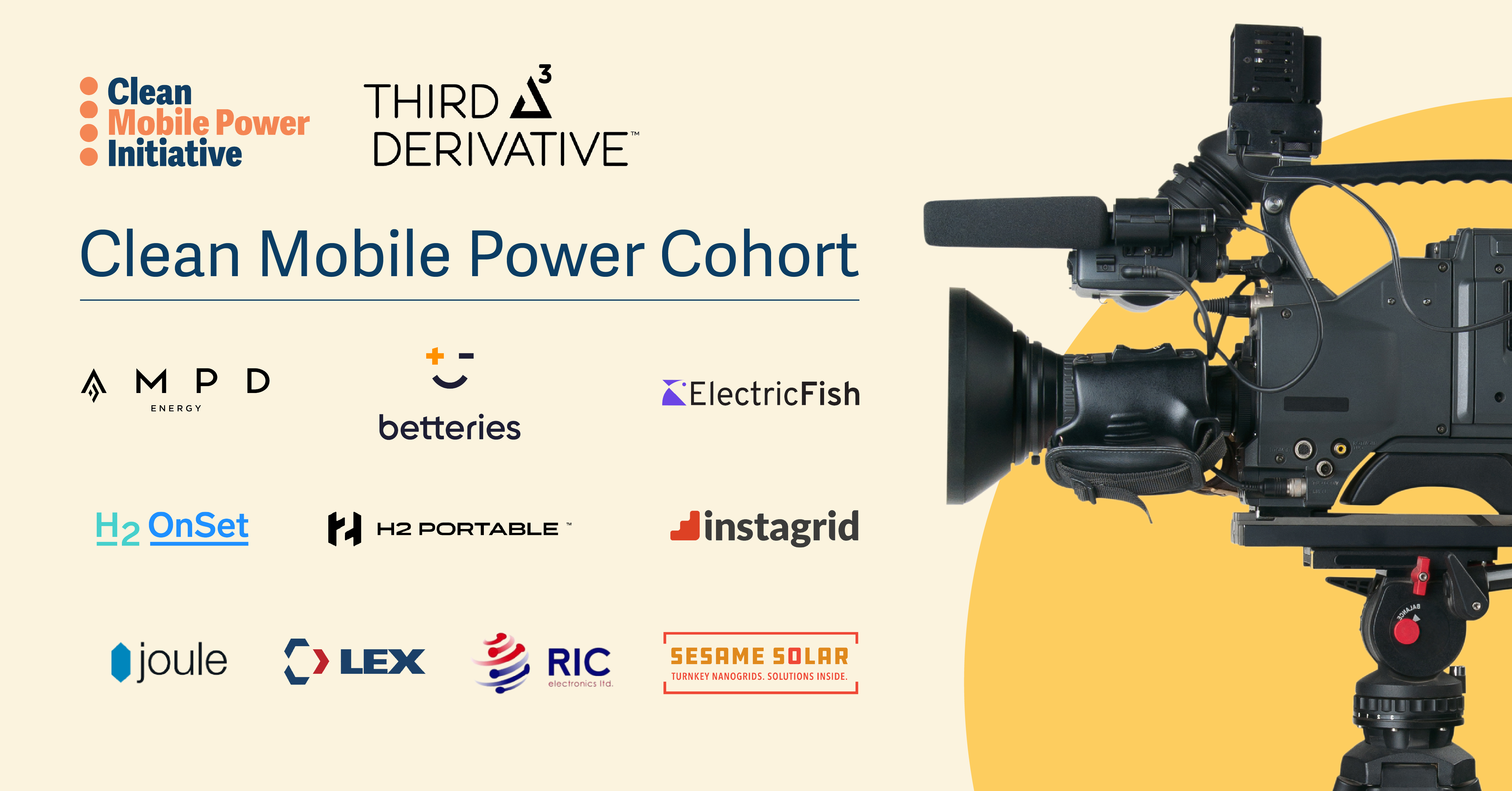 Third Derivative announces our newest cohort alongside Netflix and the Walt Disney Company in the Clean Mobile Power Initiative, aimed at accelerating the deployment of zero-emission mobile power solutions for the entertainment industry.
Today, Third Derivative is thrilled to unveil our newest cohort, the Clean Mobile Power Cohort, comprised of ten companies with innovative technologies that have the potential to deliver cost-competitive, zero-emissions mobile power for the entertainment sector — providing alternatives to diesel generators. The Clean Mobile Power Cohort falls under the umbrella of the Clean Mobile Power Initiative (CMPI), which was launched this June by Netflix and The Walt Disney Company, with the participation and support of Third Derivative and RMI.
The initiative aims to identify and deliver cost-competitive, zero-emissions mobile power at scale for the entertainment industry while focusing on accelerating and deploying clean, reliable mobile power solutions as alternatives to diesel generators, which currently account for roughly 700,000 tons of CO2e emissions per year globally from the TV and film industry. This cohort is a key pillar of the initiative, serving as a catalyst to accelerate the supply of cost-competitive, clean mobile power solutions available on the market.
Companies accepted in the Clean Mobile Power Cohort will participate in Third Derivative's 18-month accelerator program, receiving bespoke, industry-centric mentorship; opportunities to test and pilot their technology with leading production studios, streamers, and equipment vendors; receive investor introductions; and more.
Highlight Reel from the Clean Mobile Power Cohort
The ten cohort companies were selected from an accomplished pool of more than 50 applicants from ten different countries. Notably, our final companies span North America, Europe, and Asia and are well-positioned to serve entertainment production hotspots globally.
This ambitious group is honing various clean power technologies to meet the unique energy, power, size, and mobility needs of the entertainment sector. Their solutions span two main technology areas: battery energy storage systems (BESS) and hydrogen power generation. Specifically, seven companies have BESS technologies, two are focused on hydrogen power generation, and one company has a hydrogen-battery hybrid solution. These various approaches not only provide the opportunity for zero-emissions onsite power generation, but can offer significant advantages in production efficiency, worker health and safety, and local noise reduction, compared to diesel generators.
Meet the Clean Mobile Power Cohort
Ampd products store energy in large banks of lithium-ion batteries in order to manage time-based mismatches in energy supply and demand. By doing so, Ampd products provide the commercial and operational flexibility needed for industries to use cleaner sources of energy, including renewables.
Betteries' mission is to upcycle all-electric vehicle (EV) batteries into mobile, multi-purpose, and connected power systems to replace industrial fuel-based generators. They aim to enable the filming industry, among others, to transition to green production in a smooth and cost-effective way.
ElectricFish's 3502 delivers both set power and fast EV charging without costly trenching or grid upgrades. It can be daisy-chained to quickly add extra set capacity, and it can extend production runtime independent of the grid — all within a containerized energy device, leveraging proprietary battery storage and power electronics technologies.
The H2P Beta 100 Genset is designed to replace a trailered 150kW diesel generator. The power module can be trailer-mounted and is integrated with an onboard hydrogen fuel storage module for a complete zero-emissions power source.
H2OnSet enables Film and TV sets to be fed with hydrogen from local producers, using over-the-road delivery trailers of unique design. H2OnSet thus integrates hydrogen production, distribution, and use into a holistic, turnkey service.
Instagrid is using a fundamentally new approach to building and operating battery systems. Its proprietary micro-level inverter architecture, unprecedented power levels, and robustness are achieved in the smallest possible form factor.
Joule Case is a leading innovator in clean, portable power. Through a modular-first approach, Joule Case's differentiated system architecture provides flexibility to power any application.
The Lex Energy Storage Power System-Mobile (ESPS-M) is a trailer-based power provision and distribution system. Designed with state-of-the-art energy storage and power management systems, it can be easily deployed by non-specialized personnel to power an on-site load, and it can be recharged from standard EV DC fast chargers or high-power grid interfaces.
CleanGenTM is a battery solution designed specifically for film production, featuring packaging, appearance, and operational characteristics that are almost identical to a diesel generator. With zero-emission large energy storage, high efficiency, and nearly silent operation, CleanGenTM has already garnered acceptance and achieved commercial viability.
Sesame Solar's award-winning and patented Turnkey Mobile Nanogrids consist of retractable solar arrays, battery storage, green hydrogen production and storage, a fuel cell for backup power, an optional wind turbine, and atmospheric water generation. They provide various Turnkey Solutions: mobile offices, medical/emergency, communications, clean water, and EV Charging.
Accelerate Your Impact:
Lights, camera, acceleration!
The entertainment industry is just the beginning. Diesel generators find extensive use in a wide range of applications, serving as primary power sources in the Global South where grid power is unreliable, as well as supporting the construction industry, powering live events, and providing backup power (for homes, hospitals, commercial buildings, data centers, and telecommunications facilities). The combination of rising diesel prices, expanding regulatory measures, corporate ESG commitments, and the surging demand for EV charging all signal a critical and promising future for these innovative clean mobile power solutions.
Learn more about the cohort here and visit cleanmobilepowerinitiative.org if you are interested in following and/or supporting the initiative.