Ecosystem Spotlight: The long-duration energy storage solutions we need now
In Third Derivative's "Ecosystem Spotlight" series, learn about the people, ideas, and companies that are—together—accelerating the rate of climate innovation to address the climate crisis. Today, we're featuring long-duration energy storage (LDES) and the D3 startups focusing on this critical category.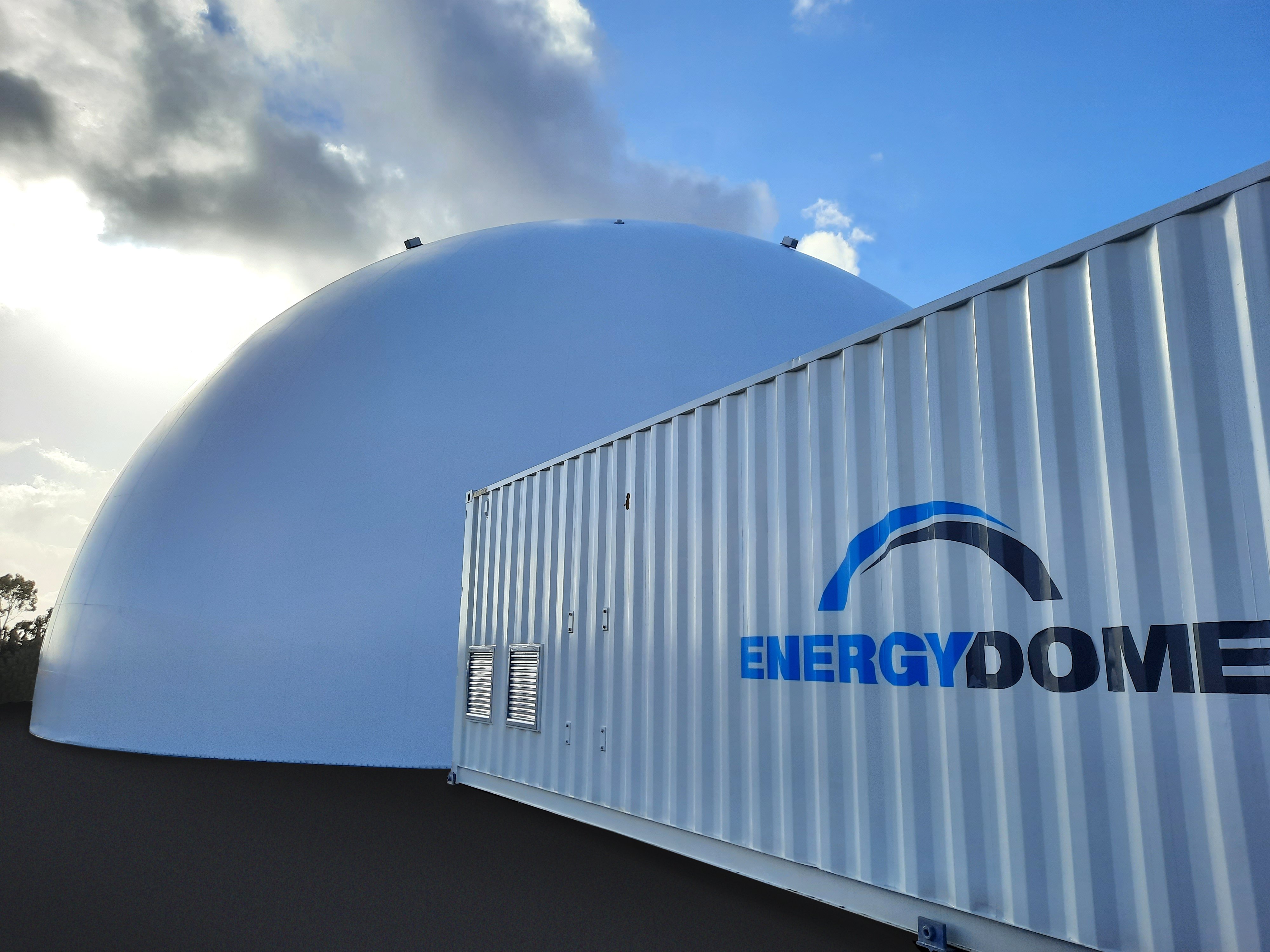 Solar and wind energy may be practically limitless—but we're still limited in the ability to decarbonize until we can effectively store surplus energy for use at night, and when there's not a sign of wind in the forecast. Sometimes called the Holy Grail of clean energy, long-duration energy storage (LDES) is the linchpin technology that will allow the economy to truly run off intermittent renewable energy sources and backup power after grid disruptions.
Traditional lithium-ion storage systems often max out at four hours of discharge at full capacity. Broadly speaking, LDES storage is flexible to release energy over longer periods at its rated power, although a more precise definition has not yet been standardized. A recent National Renewable Energy Lab review of relevant literature found definitions ranging from four hours to multiple days, with 8 or more hours most frequently cited.
In addition to landing on a universal definition for LDES, leadership is needed to usher what is currently a small subset of the overall storage market, into the limelight of investment and deployment. Most current batteries—short- and long-duration alike—are too expensive for widespread adoption, and/or utilize hazardous, non-abundant and sometimes dangerous materials.
At Third Derivative, we know the world needs more safe, ingenious LDES innovation to help decrease renewable energy costs, and enable grid operators to stabilize supply and demand. We're actively working to bring LDES solutions to market at the speed and scale needed to achieve a clean future – and we'll be publishing a more detailed technical market report on LDES soon, so please stay tuned.
Accelerating progress in multiple LDES categories
Global storage investment shot up from $460 million to $4.7 billion in the last seven years alone. But the lion's share of this capital went to Lithium-ion batteries.
To drive momentum toward other, so-far under-resourced storage categories, D3 has already welcomed five LDES startups to our portfolio, representing flow, thermophotovoltaic, and compressed gas energy storage.
The following D3-portfolio startups harness flow battery technology, which comprise an electrochemical system where reactants are dissolved in liquid and stored in separate tanks from the reaction cell. If you want to store more energy, then you simply build larger storage tanks with more electrolyte.
There are three flow battery startups currently in the D3 program:
Allegro Energy

,

Cohort 22-1 – This Newcastle, Australia-based startup has a unique approach to preventing dissociation of water in both redox flow battery and supercapacitor systems. This improves safety, performance, and dramatically reduces cost. Having just celebrated its first anniversary in April, Allegro Energy is already making waves, recently being

named

one of the top 10 new battery technologies at Europe's leading EnergyTech Summit in Warsaw. For more insight, read this pv magazine profile: "

Aussie startup invents breakthrough non-toxic battery electrolyte that's cheaper 'by factor of 100

."


XL Batteries

,

Cohort 419 – Located in Brooklyn, NY XL Batteries is developing a novel chemistry that uses a cheap, organic electrolyte dissolved in salt water. The system operates at a neutral pH, which also reduces cost for other system components such as membranes, metallurgy, and pumps. Recently the firm

successfully completed work

on its NSF SBIR Phase I award project, delivering compatible options for battery fabrication and a working prototype made from inexpensive and easy-to-process plastics. It was also named "Most Disruptive Company" at

New York Energy Week 2019.




Zinc8 Energy Solutions

,

Cohort 417 –– Zinc8 Energy Solutions has developed innovative battery technology that uses very inexpensive zinc and air as fuel. Their technology resolves the intermittent and unpredictable nature of renewable energy sources such as wind and solar. Zinc8 was selected as the winner of NYPA's 'Innovation Challenge,' which resulted in pilot demonstration at the University at Buffalo. Zinc8 is also building a pilot demonstration in Queens, NY with the support of NYSERDA. Additionally, they were selected as winners of the NYC's Department of Buildings 'Innovation Challenge' and earned recognition as a "Best-in-Class" Solution for the 2022 Real Estate Board of New York's PropTech Challenge.
Thermophotovoltaics store thermal energy, then convert heat back to electricity using a process that's similar to most solar panels. Representing this category in the D3 portfolio is a California-based startup:
Antora Energy

,

Cohort 417 – Antora's thermal energy storage soaks up excess solar and wind electricity and uses it to heat blocks of carbon so they glow like inside a toaster. This thermal energy is then delivered to customers as electricity or industrial process heat up to 1500°C, on demand. The result is zero-carbon industrial heat and power at cost parity with fossil fuels. To date Antora Energy has raised more than $50M from the likes of Bill Gates' Breakthrough Energy Ventures and Lowercarbon Capital. Read more about Antora's superheated carbon blocks at

Canary Media.
Compressed gas energy storage is a process that involves compressing and cooling air to convert and store it as liquid, then capturing the energy of expansion with a turbine to create power when needed [more here]. In this space, we see exceptional promise in:
Energy Dome

,

Cohort 417 – Based in Milan Italy, Energy Dome is producing an economical LDES system that stores energy by compressing and liquifying CO2, then returns it to a gas through an expansion turbine. This system, the CO2 Battery, can store energy from solar or wind to supply power overnight or across daily cycles if needed. The CO2 Battery has a 30-year lifetime and roundtrip efficiency of 75 to over 80%. It relies on off-the-shelf components and well-understood processes making utility-scale wind and solar fully dispatchable. The CO2 Battery is commercially available, with warranties, with first orders booked. Energy Dome is currently building a 2-megawatt demonstration, thanks partly to its successful close of its

$11 million Series A funding round

and growing reputation by being the first Italian winner in the Bloomberg New Energy Finance (BNEF)

Pioneers 2022 competition

.
These are just some of the potential advances currently underway in LDES. Fast-tracking investment in these and other enterprising deployments will be critical to unlocking the full potential of renewables, and achieving collective decarbonization goals.
The market is big enough that there could be multiple winners serving a variety of segments such as utility scale, backup power, behind the meter and off grid.
Are you a startup in the LDES space?
➡️ Apply now

to get your storage innovation to market faster with the best-networked climate tech accelerator.