Announcing Cohort 22-1
We're thrilled to unveil D3's latest batch of climate tech startups—Cohort 22-1.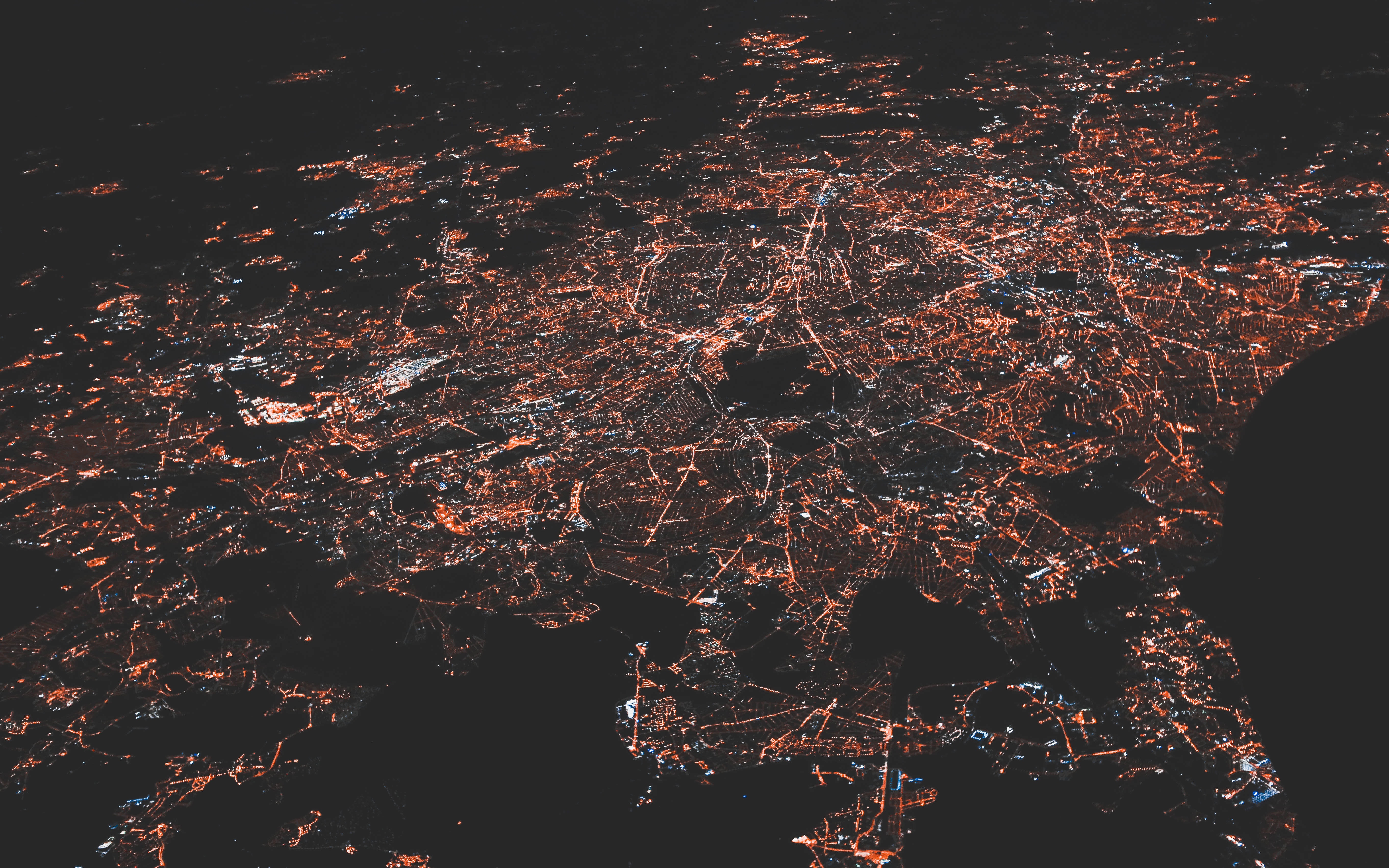 Comprised of 16 startups working on some of the most important emissions categories, today we're welcoming Cohort 22-1 into D3's portfolio as our third official cohort.
Why 22-1? Historically, our cohorts were named for the year's peak atmospheric carbon dioxide concentration (in parts per million [ppm]), based on the Keeling Curve. We're a bunch of science nerds at D3, but we realized this was just a little too wonky—so we're switching our cohort names to represent the year and quarter of their launch.
Inside Cohort 22-1
Cohort 22-1 was selected from over 200 applicants, with an acceptance rate of ~7.5%. We're particularly thrilled with the diversity among these 16 startups, 85% of which have diverse perspectives on the leadership team. Geographic diversity among Cohort 22-1 is also at an all-time high for D3, with the majority of startups based in regions outside of North America, including India, Australia, and China.
Of these non-North America based startups, six are located in India, three of which are focused on electric mobility. This is no surprise to us, with India now clearly established as a leading, innovative market for the sector.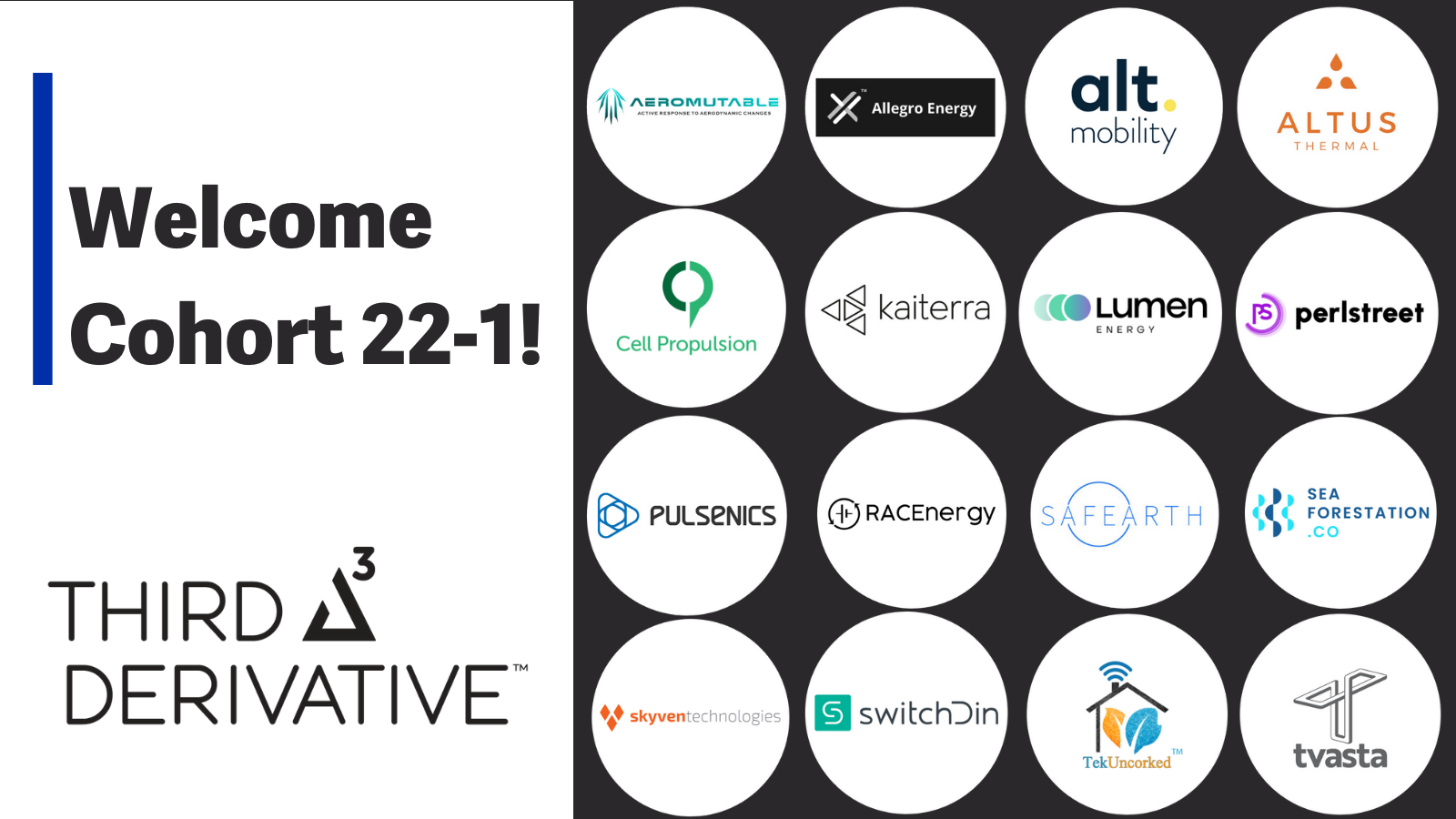 At D3, we often talk about the importance of providing resources to climate startups with critical, yet under-hyped technology solutions. Among the many startups in Cohort 22-1 that check this box, we want to highlight two startups working to switch from natural gas to electric heating—one for residential and the other for industrial process heat. This is a crucial area, often considered one of the hardest emissions categories to abate, so we're excited to have Altus Thermal and Skyven onboard.
Finally, we'd like to call out Perl Street joining Cohort 22-1 with their project finance technology that enables hardware startups to more rapidly deploy next-generation infrastructure solutions without dilution. Perl Street is a significant cross-cutting "enabling startup" with the potential to speed adoption for many of the other startups in our portfolio.
In our cohorts, we seek startups that fall into two primary categories: (1) What we call "Enablers," meaning startups creating indirect impact through key complementary technologies and solutions (such at Perl Street), and (2) startups offering "Direct Mitigation Measure," solutions that help replace legacy, GHG-intensive anthropogenic forcers with more benign alternatives (think electric vehicles to replace internal combustion engine vehicles), or with solutions that "heal" some of the damage already done by removing carbon from the atmosphere. You can read more about this approach in our recent article, How (And Why) We Measure Climate Impact.
Without further ado, explore the startups of Cohort 22-1 on our portfolio page, and below listed alphabetically to find out what they do, and why we're excited. 🚀
---
Technology solution: Aeromutable's AI-powered add-on system uses air injection to dynamically improve the aerodynamic efficiency of semi-trucks. This technology has the potential to triple the trucking industry's profitability while dramatically decreasing its carbon footprint.
Why we're excited: Aeromutable's creative new approach can enable a new level of drag reduction in this very hard-to-abate space.
Technology solution: Allegro Energy's unique electrolyte system is based on water and makes electrical energy storage more cost-effective and environmentally friendly. Allegro's energy storage solutions are based on different battery types, including short-term batteries with supercapacitors and long-term storage based on redox flow batteries. Together, Allegro's innovations provide the clean, safe, low-cost, and versatile storage needed for a circular economy.
Why we're excited: Allegro's microemulsion electrolyte technology has the potential to make electrical energy storage dirt cheap, a prerequisite for decarbonizing the power sector, which comprises 30% of U.S. emissions.

Technology solution: ALT Mobility's tech-enabled commercial EV leasing platform underwrites technology and credit risks to provide lowest cost of finance to fleet partners, ensure high uptime with fleet management technology, and ultimately, drive adoption for electric vehicles across the sector.
Why we're excited: India is on the cusp of an EV revolution, with fleets leading the way. ALT Mobility provides one of the most comprehensive EV leasing, vehicle intelligence, and management solutions for fleet managers to go electric seamlessly and start seeing value from Day 1.
Technology solution: Altus Thermal's proprietary innovations maximize performance and enable better integration with intermittent renewables and other distributed energy resources.

Why we're excited: Water heating accounts for ~0.8 GtCO2/yr emissions. Altus Thermal is developing a climate-friendly solution that can not only efficiently and cost-effectively electrify residential water heating, but also create a large demand response resource.

Technology solution: Cell Propulsion designs and develops electric light- and heavy-duty commercial vehicles, along with connected mobility solutions to catalyze the transition to electric for logistics and transportation companies. With proprietary electric powertrain technology, the team's innovations span high-voltage battery packs, battery management systems (BMS), on-board computer, motor drives, and vehicle operating systems.
Why we're excited: Freight four-wheelers account for less than 2% of India's vehicles, yet are responsible for more than 30% of transport CO2 emissions and are the greatest contributors to local air pollution. Cell Propulsion is one of the first developers of high-voltage, light- and heavy-duty e-trucks targeted at this market segment.
Technology solution: Kaiterra creates hardware and software solutions to help companies measure, analyze, understand, and improve their indoor environment, while driving critical momentum to carbon-zero goals.
Why we're excited: Building owners and operators are increasingly looking to install and integrate Indoor Air Quality monitoring systems with HVAC systems. Kaiterra offers a cost-effective solution that combines easy-to-install sensors with advanced analytics to improve air quality management and HVAC energy usage.
Technology solution: For portfolios of commercial buildings, Lumen Energy automates the programmatic pricing, selection, and deployment of profitable clean energy. All buildings are first remotely valued using a fusion of energy data science first developed on supercomputers with utility, market, geospatial, and remote sensing data. Next, each and every property receives a custom-tailored financial model, and a clean energy digital blueprint, which a marketplace of installers compete to build. Lumen Energy's user-centric software enables effortless collaboration as real estate teams find new income on their net-zero journey.
Why we're excited: Lumen Energy provides an elegant solution to address the main barriers holding back the adoption of clean energy for commercial and industrial customers. The US alone is sitting on 145 GW of commercial solar potential Technology cost curves will further expand this market. By partnering with Lumen, commercial building owners can confidently deploy clean energy solutions with speed and scale across their portfolios, unlocking new carbon-free income.
Technology solution: Perl Street can aggregate and organize distributed assets while modeling cash flow and risk to create bankable deployments with structures formerly reserved for billion-dollar project finance transactions. Their technology enables hardware startups to build high credit structures and raise significant amounts of capital for their assets—and in turn, deploy next-generation infrastructure solutions faster and without dilution.

Why we're excited: Perl Street addresses a key challenge faced by many of the other startups we work with at Third Derivative. Project financing is a complex and specialized skill—it doesn't make sense for each startup to spend hundreds of thousands of dollars and many months figuring it out for themselves. This enterprising startup solves for that.

Technology solution: Pulsenics offers hardware and data solutions to monitor and manage the condition of electrochemical systems, without the need for shut-down or design changes.

Why we're excited: Pulsenics is helping to scale up green hydrogen production with a diagnostics device that can accurately identify inefficiencies and degradations without needing to break open an electrolyzer.
Technology solution: RACEnergy's sleek and smart battery swapping devices provide real-time remote monitoring of battery parameters, parallel discharge technology, optimal thermal management, wireless connectivity, and more. Safe and durable, these battery swap packs are available at convenient stations to expedite recharge and keep more EVs on the road, than at the curb.
Why we're excited: RACEnergy has built one of the highest-performing swappable battery platforms in India, designed to accelerate and enable the electrification of the 20 million+ 2Ws and 300,000 3Ws sold yearly in the region.
Technology solution: SafEarth is making the transition to clean energy efficient and convenient for the end user. Their platform digitizes the entire life of a solar power plant, bringing the data and transparency it takes for adopters to achieve the best return on investment.
Why we're excited: Commercial & Industrial (C&I) power customers consume nearly 50% of India's electricity annually, but currently only source 3% of it from renewable sources. SafEarth is providing a pain-free, high-quality solution for India's C&I customers to go fully renewable.
Technology solution: SeaForestation's unique deepwater irrigation technology directly addresses the impact of global warming and associated ocean stratification on marine vitality by providing cool, nutrient-rich water from the deep to cultivated seaweed forest ecosystems. Their innovative permaculture-driven approach restores natural upwelling and regenerates kelp forests, subtropical seaweed cultivations, fish habitat, and global food security—all while enabling measurement of carbon capture.
Why we're excited: SeaForestation.Co's team are experts in offshore seaweed cultivation, which has gigatons of carbon removal potential as well as applicability in low-carbon food, feed, fertilizer, and fuel.
Technology solution: Skyven Technologies' energy-as-a-service solution funds and de-risks industrial projects to reduce carbon emissions caused by process heat. Their tech-forward business model aligns its revenue stream with their customers' environmental and operational goals, delivering savings from $200k–$5M annually.

Why we're excited: Industrial process heat is typically considered one of the hardest emissions segments to abate. Skyven is tackling this challenge by aligning their financial motivation with their customers' greenhouse gas reduction goals, enabling manufacturers to profitably decarbonize.

Technology solution: SwitchDin's universal software solution gives energy companies the tools to securely integrate and orchestrate diverse mixes of flexible DER to build a cleaner, better grid where everyone can participate.
Why we're excited: SwitchDin has developed a complete range of smart grid capabilities and demonstrated real value, at scale on real projects, while working with a variety of leading utilities in Australia's innovative electricity markets.
Technology solution: TekUncorked's platform makes the grid smart, connected, and predictive with real-time, 24/7 infrastructure monitoring that pinpoints potential threats to electricity distribution to avert losses and facilitate sustainable, reliable power.
Why we're excited: TekUncorked's solution is an extremely cost-effective and fast way to begin solving some persistent problems with India's electricity grid.
Technology solution: Tvasta automates 80% of the construction process with 3D printing in an end-to-end solution that encompasses machine, material, software, and process. Their tools enable quick, affordable, and customizable construction of basic infrastructure, reducing build-time and contributing to zero-waste strategies.
Why we're excited: Conventional construction practices in India are time- and labor-intensive, generate excess waste, and are responsible for significant CO2 emissions. Tvasta's 3D printing technology improves quality, productivity, and sustainability performance to support India's long-term housing needs.
➡️ Know a great startup for D3's portfolio? Refer them here.